Skip to Content
RV Windshield Repair in Greater Phoenix & Las Vegas
RV Window Seal Creep & Glass Repair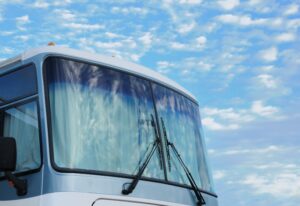 The cost of owning and operating an RV, as well as fueling it and keeping up with repairs and upkeep, may be high. If your windshield or other auto glass is damaged, the cost of repair may be high. In the Greater Phoenix, AZ and Las Vegas, NV Regions metro areas, Vehicle Glass Express makes expert auto glass maintenance more practical. We specialize in RV windshield repair. We are well-equipped and experienced in handling the bigger windshield on an RV and fixing chips, cracks, and other problems. High-quality auto glass repairs and the best service are warranted for your recreational vehicle. We carefully assess any windshield damage before deciding on the best repair methods by drawing on our extensive expertise and years of experience.
Our technicians also utilize some of the industry's most trusted equipment and technology to ensure outstanding, long-lasting results. Don't drive with a broken or cracked windshield. Call our team today! Our staff is prepared to respond to your inquiries, ease your concerns, and return you to driving safely on the road.
Trust THE Best for Your RV
There are several benefits to using Auto Glass Express for your RV windshield repair requirements. Our company has provided excellent customer service to hundreds of clients, earning us an A+ rating from the Better Business Bureau (BBB). Our exceptional service and repairs have been so well received by customers that we have a 4.7-star rating out of over 400 reviews. Additionally, when we fix your chip, you have added confidence that it will last. Our lifetime chip repair warranty is included with all windshield chip repairs. When you contact us, you can be confident that your repair investment will be profitable due to our comprehensive training and experience with RV windshields, our broad range of auto glass knowledge, and our reputable status as knowledgeable auto glass specialists.
The Importance of Professional Windshield Repair
Damage to the glass components of your recreational vehicle or camper, whether it's a little chip or a big break, is seldom simply aesthetic – chips and cracks left over time frequently spread, deepen, and get worse. Even with a dual-pane window system, time, road vibrations and shocks, and weather events like hail, frost, and severe heat will take their toll. This can cause that unsightly blemish on your windshield or side window to worsen until it becomes a safety threat.
Thankfully, the team at Auto Glass Express provides top-tier service for repairing motorhome and RV windshields and RV windows throughout the Phoenix and Las Vegas areas. Our aim is to minimize the inconvenience involved in getting you back on the road as soon as possible. We will try to fix your RV glass if it can be done. We'll advise an RV windshield replacement with a warranty if the damage is simply too severe to be repaired. Fortunately, we also provide comprehensive windshield replacement services if we determine your windshield to be too far broken for repairs.
Why Auto Glass Express?
As knowledgeable and skilled vehicle glass professionals, Auto Glass Express is aware of how crucial it is to have prompt, reliable assistance accessible anytime a windshield problem arises. Damage seldom occurs at a convenient moment, and if it is ignored, cracks and chips on your RV windshield have an opportunity to deepen and spread. Resolve the damage as soon as you can with assistance from our professionals rather than assuming the best and running the risk of needing to replace your entire windshield. We can help you decide if you need to replace your vehicle glass or whether repairs can restore it. Drivers throughout the metropolitan region, including those in Avondale, Glendale, and Gilbert, AZ, and in Henderson to Summerlin, NV can use our services.
We take care of all of your windshield repair needs with prompt, effective service and a dedication to excellence.
Get a Free Quote Today
Our customers come first, and because of that, we offer the best windshield replacements in Phoenix and Las Vegas installed by professionally trained techs. If your windshield is cracked, chipped, or damaged, contact our team today for a free quote. We will get back to you as quickly as possible to help you get back on the road safely and affordably.